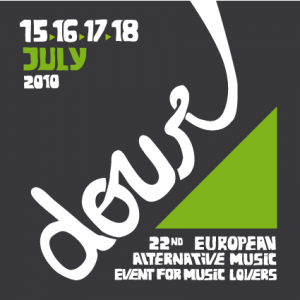 Es sind noch 57 Tage bis zum Start des DOUR Festival 2010 aber die Veranstalter zeigen uns heute schon mal, wer alles mit dabei sein wird. An 4 Tagen gibt es im belgischen Dour 200 Bands und Acts für eine tägliche Dauerparty von Mittags bis früh um 5! Mit der heutigen Ankündigung ist das Lineup fürs DOUR 2010 fast komplett.
Beim Blick auf die Bands wird auch hier wieder deutlich, wieso das Dour Festival im Januar den European Festival Award für das beste mittel-große Festival abgesahnt hat. Beim Dour gibt es ein extrem vielseitiges Musikprogramm das mit Qualität glänzt und das Ganze zu einem im Vergleich recht günstigen Preis! So macht man ein Festival das gefällt.
Und weil der Trend immer mehr von der schnöden Lineup-Ankündigung hin zur Lineup-Video-Präsentation geht, haben die Belgier da auch ein kleines Filmchen gedreht.
22nd DOUR FESTIVAL // 15 16 17 18 July 2010 from Dour Festival on Vimeo.
Hier noch zur Vollständigkeit die aktuelle Namensliste fürs Dour 2010 nach Tagen aufgeteilt (mit heute neuen Namen fett geschrieben):
Donnerstag, der 15. Juli 2010
Faith No More, Hadouken!, Netsky, The Count & Sinden, Peter Digital Orchestra, Murdock, Moderat [(Modeselektor + Apparat) & VJ Pfadfinderei], Schlachthofbronx, DJ Hype [feat. Daddy Earl], DevilDriver, Jesse Rose, Black Sun Empire, Dj Marky [& Stamina Mc], Wax Tailor, Gui Boratto, Dj Hazard, The Maccabees, Simian Mobile Disco [live], Eiffel, Dj Zinc, Baroness, Get Well Soon, Todd, Beast, Borgore, Captain Ahab feat. Sickboy, Chapelier Fou, Drumcorps, Hermanos Inglesos, HighBloo, Wild Beasts, KomaH, Le Bal des Enragés [feat. members of Tagada Jones, Lofofora, Parabellum, Damny de La Phaze, Vx de Punish Yourself, ….], New-York Ska-Jazz Ensemble, Piano Club, Playboy's Bend, Showstar, Superamazoo, Wovenhand [& Muzsikas], Hoods …
Freitag, der 16. Juli 2010
Otto Von Schirach [live], The Subways, High Tone, Agoria, Chris Cunningham, Atari Teenage Riot, Dave Clarke, Paul Kalkbrenner [live], Gwar, Été 67, Los Campesinos!, Absynthe Minded, A-Trak, General Elektriks, Sharko, Dub Pistols, Fun Lovin' Criminals, Dan Le Sac vs Scroobius Pip, Chromeo, Owen Pallett [(Final Fantasy)], Daedelus, Caliban, Peter Pan Speedrock, Douster, Carl Craig [feat. Mad Mike Banks], Chrome Hoof, Zenzile, Java, La Ruda, Aba Shanti vs The Disciples, AKS [feat. Selah Sue], Bacon Caravan Creek, Dark Sensation, Black Heart Procession, Dog Eat Dog, Forma.T All Stars, High & Irie Soundsystem, Hypnotic Brass Ensemble, Jimmy Edgar [live], La Squadra Umoja [feat. Volt Selector, Omar Perry, Brother Culture, Ashanti 3000, Dynamic, Sophie Demeyer, Saule & Baloji], MLCD [[My Little Cheap Dictaphone]], New Young Pony Club, Pandit G + Mc Navigator, Serena Maneesh, The Antlers, The Futureheads …
Samstag, der 17. Juli 2010
Uffie [live], Benga [feat. Sgt Pokes], Raggasonic, dÉbruit, Pony Pony Run Run, Skream [feat. Sgt Pokes], BunZer0, Chinese Man, The Subs [live], Os Mutantes, De La Soul [& Rhythm Roots All Stars], Mass Hysteria, Emalkay, Arkangel, The Spudmonsters, Das Pop, Etienne de Crécy [live (Beats'N'Cubes)], Noob, Brodinski, Inna de Yard All Stars [feat. Earl "Chinna" Smith, Cedric "Congo" Myton, Kiddus I, Matthew McAnuff, Derajah], Poulycroc, Fucked Up, Black Mountain, Bilal [& band], Renaissance Man, Mayer Hawthorne & The County, Third World, Crown City Rockers, Lower Than Atlantis, Les Blérots de R.A.V.E.L., Lee Fields & The Expressions, Spoon, The Very Best, Chokebore, The Middle East, Death Before Dishonor, Breakbot, Chali 2na (of Jurassic 5) & Breakestra, Frank Shinobi, Gentleman [& The Evolution], Jr Reid, Kissy Sell Out, Les Sales Majestés, Omar Perry, Rainbow Arabia, Resistance, Starkey, The Mahones, The Van Jets, Vismets, Jeremy Ellis vs Exile, LeFtO …
Sonntag, der 18. Juli 2010
Balkan Beat Box, Dum Dum Girls, Monotonix, The Raveonettes, Dj Kentaro, Sexy Sushi, Buraka Som Sistema, Capleton [& David House Crew], Bushman, Ghinzu, Calvin Harris [live], Danakil, Brother Ali [feat. Bk One], The Sonics, Air Guitar Belgium, Mr. Vegas [& 4 Eva Bless Band], Shining, Anti-Pop Consortium, Archie Bronson Outfit, Medine + Collectif Din Records, Errors, Steve Von Till/Harvestman [of Neurosis], Clues, Giant Sand, Baddies, Alonzo, Devendra Banhart, Fagget Fairys, Family Jammin, Gandhi, Isola, Lee Perry + Max Romeo + Congos, Nessbeal, …
All diese Bands und noch ein paar wenige mehr kann man vom 15. bis 18. Juli genießen, wenn man sich ein Ticket fürs Dour 2010 kauft. Die Karten gibt es schon für günstige 93Euro im Vorverkauf und wer vor Ort campen möchte, muss noch ein Camping-Ticket für 15Euro dazukaufen.
Alle weiteren Infos zu Festival & Bands auf
www.dourfestival.be