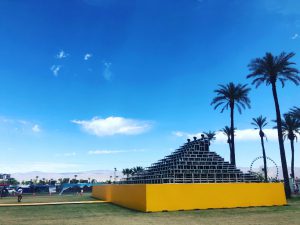 Coachella has come and gone yet again. Another drive out to the desert to meet-up with old friends and make new ones. The annual journey begins with the Costco run and a pit stop to the Ontario airport (yes there is an Ontario airport in California in addition to Canada) to pick-up a new friend made at Austin City Limits from six months earlier.
Die Festivalhopper Jim Dusserre & Martin Bock berichten vom Coachella Valley Music and Arts Festival 2019 aus Indio, Kalifornien.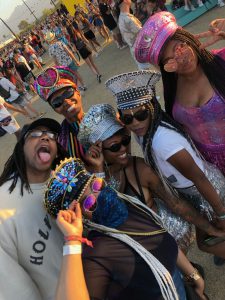 This year there was that normal excitement for the overall Coachella experience but not so much the line-up but even in years past when I was not overly enthused by the line-up, I was inevitably surprised and refreshed to discover new artists. Upon entering the campground check-in I was blown away by the small lines to get through security. I've been in that line for up to three hours before nut this year from the time we got on the campground site to our new home for the net four days, maybe took us about 30 minutes.
There is always that unsure feeling not knowing who your "neighbors" will be for the next four days but we got pretty lucky with a group from San Diego which included a DJ and a scientists, a group of drag queens and a couple college buddies from Arizona.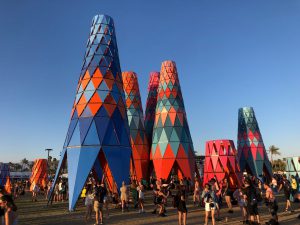 Had an opportunity to see Chvrches for less than $10 at Papp and Harriet's in Pioneer Town on Thursday night but the logistics with travel didn't work out due to the "in & out" policies of The Empire Polo Ground. Stay on top of Papp and Harriet's calendar. It's a small venue but has plenty impressive acts over the years leading up to Coachella or the week between weekends one and two. In the recent years the following bands have appeared there: Breeders, Regrettes, Ryan Bingham, Cracker, Dr Dog, Fishbone, Unknown Mortal Orchestra, Angel Olsen, Alvvays and Maren Morris.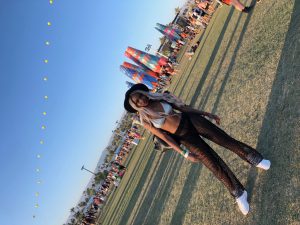 Because we missed Chvrches for less than $10 bucks we were able to take advantage of the clothing sale on the campgrounds, which is held every year on the Thursday prior to Weekends One and Two. It is held at the "Silent Disco" close to the food court, general store area at approximately 6:00-7:00 PM. Groups of approximately 10-15 people are let in and given three minutes to fill a gift bag with as much overstocked clothes and merchandise from previous years, all for only $20!!! The line can be long but it does move at a decent pace, it's definitely worth it and if you go to Coachella consistent enough it changes your relationship with the new merchandise sold each year at the main merchandise tents. You can expect to get about 10-15 t-shirts, couple hoodies, water bottles, wallets, etc. Generally you keep 5-6 shirts for yourself plus a hoodie and some other goodies, with the rest use as gifts for family and friends or for your new neighbors at the campsite.
Highlights from the acts: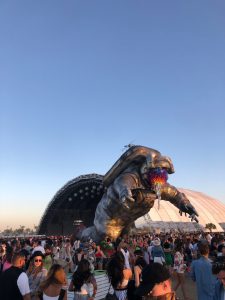 Friday
King Princess – great set.
Kacey Musgraves – was reminded why I just can't get into country music about five songs in.
BLACKPINK – fun set, didn't understand any of the lyrics but the crowd loved
them. Have to admire the over produced, highly organized K-POP machine.
Janelle Monae,- solid set, strong woman, knows her space in music.
Childish Gambino – admittedly didn't know much aside from I liked Donald Glover in "Community" and as Lando in the Han Solo movie and the press from "This Is America." He is a legit talent who I encourage everyone to kick the tires on him. Have listened to him probably more than anyone else post- Coachella.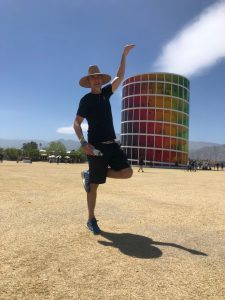 Saturday
Highly recommend to go into the venue early on Saturday 12:00-1:00ish so you can see a different side of Coachella. It's a shell of what it is in from 5:00 PM on. You can possibly see a mic-check (Sia from a few years ago was pretty cool). You can also see acts playing in front 8-10 people which is a very
different experience.
ARIZONA– up and coming, pretty good set. Definitely will see a lot of them in the coming years.
Bob Moses– festival regular, deserving of good time slots, worth your time. Great cover of Prodigy's "Firestarter."
Maggie Rogers– future star, will look back and be shocked that we got to see
her in one of the tents.
Mac DeMarco– meh.
Bilile Eilish– meh, don't get the non-singing, whispering, talking, baby talk thing.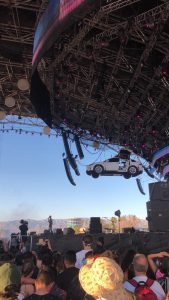 Sunday
Kanye's Sunday Morning Service-truly one of the most bizarre things I've
ever experienced. Sad to see the longest lines all weekend was for his
"Church Merch" stand to get $70 shirts, $260 sweatshirts and $50 socks. If
you saw his band playing their hour long instrumental at a food court in the
mall you wouldn't even stop on your way to "Hot Dog On A Stick."
Alice Merton– great energy, good show.
Dennis Lloyd- dude has some serious swag and talent to go with it. His performance ending cover of "Hit me baby one more time" was pretty
damn cool.
Lizzo– this is her time, show was a giant party. Probably the most fun of any
act all weekend.
Dermot Kennedy– Solid.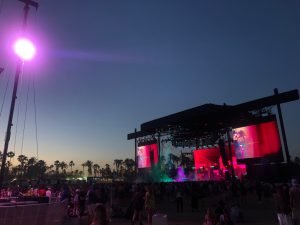 Soffi Tukker– festival darlings are growing up right before our eyes. One of
the best shows of the weekend.
Chvrches– best set of the weekend, don't know how they played in a smaller tent but had a great spot so who cares. One more good album and they deserve to headline any large festival.
Ariana Grande– didn't meet a single person all weekend who was excited to see her. Sat on the grass eating paella catching up with an old friend from past Coachella. At least the paella and conversation was good.
Das Coachella Valley Music and Arts Festival findet auch im Jahr 2020 wieder an zwei aufeinander folgenden Wochenenden DOPPELT statt. Die Termine sind der 10. bis 12. April und der 17. bis 19. April 2020.