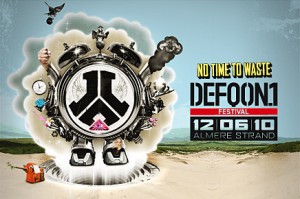 Auch dieses Jahr verwandelt Q-dance den Strand der niederländischen Großstadt Almere zur Partyhochburg und dann heißt es Defqon.1.
Headliner ist dieses Jahr Wildstylez der mit "No Time To Waste" auch gleich die Hymne spendiert. Defqon.1 findet am 12. Juni 2010 statt und dauert von 11 bis 23 Uhr auf 9 Areas. Tickets sind schon seit April ausverkauft.

Line-Up:
RED:
Brennan Heart, Charly Lownoise & Mental Theo, Coone, D-Block & S-te-Fan, Thilo & Evanti, Frontliner. Headhunterz, Noisecontrollers, Wildstylez, Hosted by: DV8
BLUE:
Alpha² & Beat Providers, B-Front, Deepack, Digital Punk, Nitrouz, Slim Shore, Tatanka, Zany, Psyko Punkz (LIVE), Second Identity (LIVE), Hosted by: Villain
BLACK:
Amnesys, Anime, Art of Fighters, E-Ruption, Endymion, Mad Dog, Neophyte, Nosferatu, Outblast, Partyraiser, Tha Playah, Unexist, Hosted by: Da Mouth of Madness
SILVER:
Bryan Fury, Drokz, Mental Wreckage, Mindustries, Negative A, Simon Underground, Stormtrooper, Tymon, Live: Mez, Hosted by: Justice
GREEN:
Audio Slayer, Bold, Boris S, Daniela Haverbeck, Fernanda Martins, Hilarious, Mike Drama, Miss Djax, Hosted by: TMC
ORANGE:
A*S*Y*S, Dimavi,Fausto, Kamui, Kutski, Nik Fish, Phil York, Stana, Hosted by: J-B
GREY:
Delirium, Fierce Ruling Diva,Panic, Pavo, Promo, Robin Albers, The Prophet, The Viper, Vince, Hosted by: Da Syndrome
BROWN:
Coone, Dark-E, Davoodi, Demoniak, Dr.Phunk, Fenix, Jones (BE), Playboyz, Ruthless, Hosted by: Chucky
PURPLE:
Artic, Atmozfears, Bioweapon, Ezteq, Frequencerz, Hektic, Intractable One, Soul T, The Vision, The Yofridiz, Titan, Waverider, Hosted by: MC V
WHITE:
A*S*Y*S, Arjen T., Dock 45, Dov Elkabas, Dustin Zahn, Isaac, Nightstalkers, Pavelow
Alles weitere was ihr über die Defqon.1 wissen müsst, gibt es hier bei uns und bei Q-dance "all you need to know" auf q-dance.nl.