Neue Bands fürs RD ROCK Festival 2008: 3Ecksperiment, Brainfuckers Fun Foundation, Generated Youth und Noise Forest. Über 50 Bands werden auf 3 Bühnen schleswig-holsteinischen Hademarschen rocken. 39 Bands sind bereits bestätigt.
Ausserdem schon mit dabei: Armstrong, Attitude, Be As One, Behind the Eightball, Big Banders, Bodo, Boutique Rouge, Clöse, Cor, Das Goldene Handwerk, Deaf Leeches of the Ear Department, Die Fischer, Dog Eared Pages, Enraged, Frankie´s Freakshow, Funny Love Painful, Kilt, Locomotif, Loud & Dirty, Mapinguari, Morbus Down, Mr. Burns, NoM, Optimus Prime, Phlegmatix, Rantanplan, Schloidergang, Seenot, Small Town Riot, Surfits, Three Chord Society, Typhoon Motor Dudes, Tyson, Unexplained und Vladimir Harkonnen. Weite Infos bei Festivalhopper oder bei www.rd-rock.de.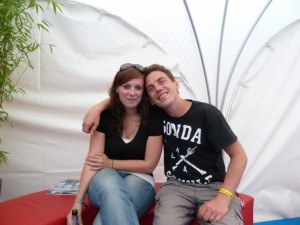 Am Nachmittag des letzten Festivaltags des Eschweger Open Flairs empfing uns Totte der Monsters of Liedermaching im Backstagebereich zu einem überaus netten und lustigen Interview. Zuerst wurden alle mit Bier versorgt und dann begann Totte von seiner Band, dem "Liedermacherstammtisch" zu erzählen. Am vorangegangenen Freitag erst erschien das neuste Album "Schnaps und Kekse" mit allerlei lustigen, ergreifenden und ohrwurmverdächtigen Songs.

Am 10.+11.07.2009 findet in Hanerau-Hademarschen (Schleswig-Holstein) das RD Rock Festival 2009 statt. Sehr schön, dass dieses sympathische Festival doch wieder stattfindet. Es informiert Euch Stefan von den RD-Rockern: