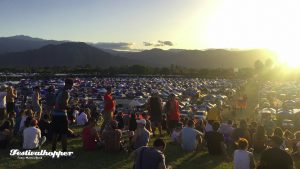 Als Appetizer fürs Coachella 2018, das vom 13. bis 15. April und 20. bis 22. April 2018 stattfinden wird (siehe auch Coachella veröffentlicht LineUp 2018), blickt Festivalhopper Jim Dusserre nocheinmal zurück auf die vergangene Ausgabe, das Coachella 2017. Er tut dies in seiner Muttersprache und wir sind sicher Euch nicht damit zu überfordern. Das Coachella war, wie so oft: legendär.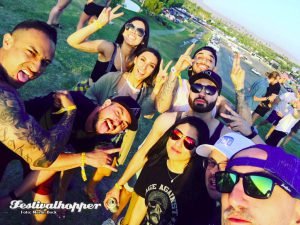 By Jim Dusserre
As crazy as it sounds, there's no place I'd rather be than walking the length of a football field in the cold and dark of night to the port-a-potties on the Coachella campgrounds at 3:30 in the morning. On the surface it sounds terrible, but there is nothing more tangible than that walk. Because it reminds you where you are, you're not at your regular home but you're at your other home. Your familiar place. Life is what happens between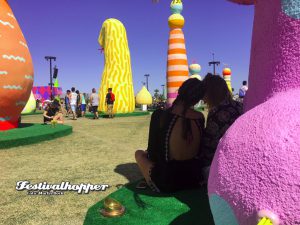 Coachella festivals. During the day the beer pong games, giant Jenga games, ice runs, morning yoga tent (which you watch more than participate), chatting it up with festival goers from all over the world. Walking by the shower lines and convincing yourself that a baby wipe bath is the better option…again. At night intending to go to the silent disco, watching the zombie like people stumble around after a day of indulgences, never feeling unsafe, and always ready to help someone out who over indulged. Finally trying the "spicy" spicy pie slice and having your lips nearly burn off while a Mexican kid from Riverside convince you it's not that bad. Once again this sounds terrible but there's no place else I'd rather be.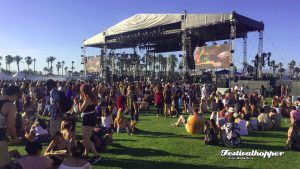 If you've seen enough of the Big Blue Marble you'll always remember the firsts, the first time seeing the most beautiful green field of the professional sport of your choosing, the lights of the Vegas Strip at night, the Grand Canyon, the Duomo poking out from the buildings in Florence before turning the corner and seeing it in all it's beauty, your first Hawaiin sunset. Well, your first time entering the musical venue at Coachella is as good if not better than anything you'll ever see. Your first time seeing the venue is like in the Wizard of Oz and everything turns from black and white to color. Your life was in black and white pre-Coachella and now is in glorious color.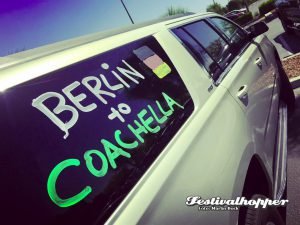 After you've been to a few Coachella's you don't make the mistake of pre-judging the festival by the line-up in advance. The line-up can be secondary to the overall experience. Never heard of some of the bands, you're in the same boat as everyone else. Discover new artists, reconnect with old artists, follow your new discoveries and see them when they visit your local area. That's the beauty of Coachella, with that said here's a breakdown of what I saw this year:
Oh wonder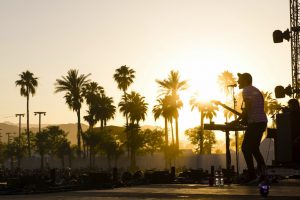 – A little poppy but fun. As a heterosexual man they're great to crack up in the solitude of your car or earbuds. If you're not freely blow your eardrums out for everyone to hear. Like Chvrches or Naked And The Famous? You'll enjoy Oh Wonder.
Mac Demarco – Do not understand this artist after seeing him for the second time. The best part of his show was I was able to take a great nap on the grass while he played and it the nap was better than the music.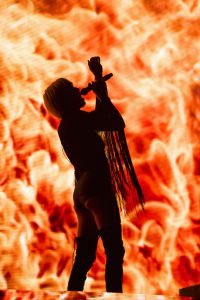 Phantogram – If the Yeah, Yeah, Yeahs and Linkin Park had a love child it would be Phantogram. Good show.
Big Gigantic – EDM music in the Sahara Tent with real instruments 2 trumpets, trombone, drum set. Pretty cool band, would like to see more in the future.
the xx – See mac demarco without the nap.
Little dragon – If you know who they are, good for you. If not, check them out. Lot of fun.
Radiohead – Saw Radiohead half dozen times from 1996-2001. All shows were absolutely amazing. They lost me a little (actually a lot) after the Amnesiac album. Before this Coachella walked out of their 2012 second night headlining here at Coachella, way too slow and melancholy start to that show. Really wanted to reconnect with them this year but it was out of their hands due to technical problems. After the fifth time their sound cut out, so did I.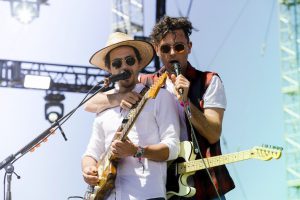 Arkells – Fun Canadian band, solid set, great energy, lead singer climbed into the crowd and invited a fan to join them on stage a play guitar in D, G, and E Minor. Pretty cool.
Car seat headrest – Definitely listen to more of this band. Reminds me of the 90's Seattle scene or the type of band you'd listen to at the listening stations at Tower Records. You have to give credit to any band who embrace the lost art of harmonizing and has a left-handed guitarist.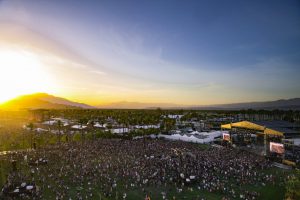 Bastille – What you'd expect, pretty good, worth your time.
Two door cinema club – Makes you wonder why they aren't more commercially successful. Everything they do is great. A lot of their stuff sounds the same but if you like that sound you'll never be disappointed, great show.
Dreamcar – Was very much looking forward to their debut appearance but was underwhelmed.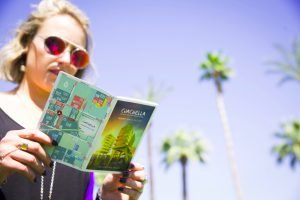 Royskopf – Norwegian duo brought their "A" game to the desert. Would love to see them again.
School boy Q – Great energy, good entertainer, solid crowd work.
Bon Iver – This was a band that I tried to understand previously but never could. This year was the first time I finally got it, beautiful performance.
DJ Snake – Cool Lauryn Hill special guest appearance.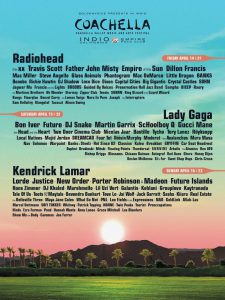 Sahara Tent – Can't do it anymore. I do appreciate and respect EDM, especially live but the Sahara Tent is intolerable. The train of 12 co-ed college punks trunk to tail, holding holds forcing their way wherever they want without an acknowledgement of how rude they are. Paying no attention to the countless shoulders they separate forcing their way through the crowd. Sigma Kappa Douche you don't have to experience everything together. You're most likely going to hate 75% of those people in a few short years. Do us all a favor and put your shirts on (guys only), keep your backpacks, glitter, glow sticks in Mommy and Daddy's time share. Or wait a week and go to Stagecoach.
Lady Gaga – Really appreciate her filling in for Beyonce on short notice. Put on a pretty good show but at times tried too hard to be tough with the "fuck yeah Coachella" routine. The crowd for the most enjoyed her but pushed back a bit on the pop and country feel.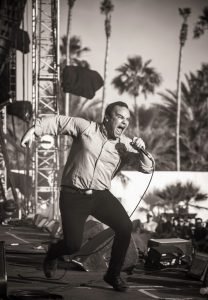 Future Islands – DO NOT miss an opportunity to this Baltimore based American treasure. Easily one of the most entertaining shows you'll ever see. Overheard in the crowd when seeing frontman Sam Herring on stage, "That dude can't be the singer…Oh shit he is…homeboy don't mess around."
Soffy Tukker – Fun show, can't wait for her to come my way soon.
Grouplove – Great asset for any festival, reliable, great vibe, always deliver.
Bishop Briggs – She's much more than her hit The River. A real talent.
Hans Zimmer – One of the cooler and most unique performances at the festival. Was intrigued by this inclusion and was completely blown away. Wish Coachella would add more performances like this, a little outside the box. Only complaint was the Pharrel Williams appearance, distracted from the overall performance.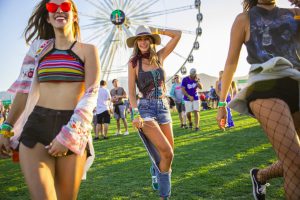 Justice – The leader in the clubhouse for many as one of the best performance of the festival. EDM with a laid back feel, maybe it was because they weren't in the Sahara tent.
Kendrick Lamar – Organizers please don't have modern day hip hop stars headline. They can't hold your attention and work a large crowds. Super boring, just like Drake in 2015. Older hip hop artists can do it, like Dre with Snoop or Jay Z. These newer artist who are lyric based and not hook based really struggle.
All pictures without "Festivalhopper" mark: (c) courtesy coachella.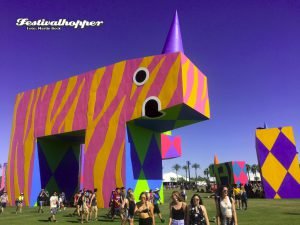 Lorde – Our baby is growing up right before our eyes. Has grown quite a bit from her 2014 Coachella debut (they're so cute at that age) Great mix with her setlist, she's on her way to headlining. Only downfall was she's a little too chatty for my taste. She's like the hot girl who has that hot girl syndrome who thinks she's more interesting than she actually is. Where the hot girl thinks she interesting because people always want to talk to her, Lorde achieved success at such a young age she thinks people are more interested in listening to her talk than we really are.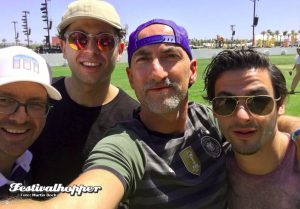 Schaut Euch auch unsere weiteren Rückblicke aufs Coachella Valley Music and Arts Festival an. "Musik und Kunst in der Wüste – Coachella 2013", "Stay hydrated" – Samstag und Sonntags beim Coachella 2013, Coachella 2014 – drei Tage Sonne Bands & Musik, Coachella, so wars 2015 im 'Foyer' zur Wüste, Coachella schreibt Geschichte – so wars in 2016.