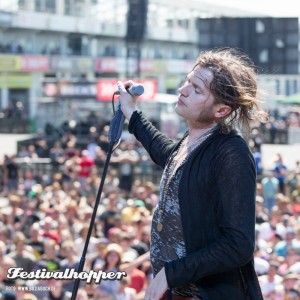 Future, Rival Sons (Bild links), Kelela, Lower, Gessafelstein, Morudes, Kolstø/Atlanter/Frøkedal, Sea Change, Monica Heldal, Proviant Audio, Egil Olsen und Obliteration sind die letzten Neuzugänge fürs Øya Festival 2014.
Das LineUp des norwegischen Festivals ist damit komplett. Vom 05.-09. August 2014 (Dienstag bis Samstag) steigt zum 15.Mal das große grüne ØYA Festival im Tøyenpark und an vielen anderen Locations in Oslo.
Vom 5. bis 9. August 2014 kommen auch Bands wie Outkast, Queens Of The Stone Age, Röyksopp & Robyn, The National, Janelle Monáe, Slowdive, Todd Terje, Bryan Ferry, Thomas Dybdahl, Conor Oberst, Neneh Cherry with Rocketnumbernine, Neutral Milk Hotel, Mayhem, The Horrors oder Gesaffelstein nach Oslo.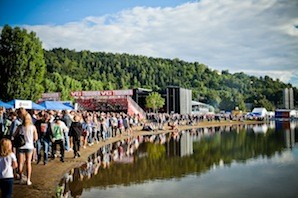 Bereits am Dienstag, dem 05.08. startet das OYA Festival 2014 mit dem "Auftakt Øya ClubDay". Gegen Nachmittag geht es dann auf den OpenAir Bühnen und in den Clubs der Stadt los. Mittwoch bis einschließlich Samstag gibt es dann das Hauptprogramm auf dem Festivalglände im Tøyenpark. Jeweils ab Mitternacht folgt dann die "ØyaNight" mit viel wilder Party in Oslos angesagtesten Veranstaltungslocations.
ØYA Club Day
Dienstag, 05. August 2014, in 25 Veranstaltungslocations in Oslo. Mit dabei:5 Elementer, Aact Rraiser, Alfahanne (Se), Antler, Astro Sonic, At Your Leisure, Banzai Love, Beglomeg, Vegard Bleken, Bløsh, Broen, Petter Baarli, Cables /Cattle Decapitation (Us), Cezinando, Condor, Control Voltage Khomeini, Darling West, Degos, Dig Deeper, Drm Klikk, Electric Eye, Eon Hood, Feelings, Folke, Fredfades & Ivan Ave, Frøkedal & Familien, Glaciers (Uk), Happy Tosh, Haraball, Haust, Janne Hea, Heroes & Zeros, Herreløse, Intertwine, Jesus Fucking Christ, Jonas V & Petter Beyer, Juicer, Kindred Fever, Koèju , Kollwitz, Kosmik Boogie Tribe, Kuuk, Lady Moscow, Let's Be Light, Línt, Lumikide, Marcus Løvdal Band, Mantar (De), O. Martin, Masselys, Metoo (Za), Minnie-Oh, Mk's Marvellous Medicine, Mmm, Mona & Maria, Moon Relay, Magnus Moriarty, Nrwy, Odd Loves To Dance, Ole Torjus, Ondt Blod, Oter, Pentagram Chile (Cl), Pokal, Possessed (Us), Pow Pow, Psyence Fiction, Pybanen, Raggabalder, Rich Girl Funeral, Rydin, Sigrid Raabe, S.L.Y.C., S/O/L, Safari Sound (Se), Seven Doors Hotel, Shevils, Shitrich, Silkeramp, Slutface, Silja Sol, Sophie's Garden, Spectral Haze, Spurv, Støv, Stylo-G (Uk), Svømmebasseng, Rebecca Thorsen, Tombstones, Tomorrow We Move To Hawaii, Traumahelikopter (Nl), Vito, Volume, Fay Wildhagen, Ökogym
ØYA Festival Hauptprogramm
Mittwoch, 06., bis Samstag, 09. August im Tøyenparkzum ØYA LineUp

ØYA Night
Mittwoch, 6., bis Samstag, 9. August in vielen Clubs der Stadt. Mit dabei:Ace Invader (SE), André Bratten (NO), Anthony Shakir (US), Baby In Vain (DK), Bearson (NO), Blues Pills (SE/FR/US), Boogarins (BR), Brokeland Bullets (NO), Carnival Kids (NO), Circa Waves (UK), Clean Bandit (UK) DJ-Set, Cleo & Kristin Amparo (SE), Coucheron (NO), Deathcrush (NO), Dimitri From Paris (FR), DJ Alex (IT), Doc L Junior (NO), Eleanor Friedberger (US), Erlend Ropstad (NO), €urocrats (BE) (Aeroplane), Fagernes Yacht Club (NO), FEMME (UK), Floating Points (UK), Forest Swords (UK), Graze (CA), Growlers (US), Harry Love (UK), Hvitmalt Gjerde (NO), INVSN (SE), Isaac Ferry (UK) , Jay Daniels (US), Jerry Folk (NO) , Jillionaire (TT), Joey Bada$$ (US) Official Afterparty, Johnny Hootrock (US), Jungle (UK) DJ-set, Justus Köncke (DE), Krokofant (NO), Lee Bains III & The Glory Fires (US), Levon Vincent (US), Linda Pira (SE), Lorentz (SE), Loveless (NO), Marquis Hawkes (UK), Moullinex (PT), Mugison (IS), Mutual Benefit (US), Naomi Pilgrim (SE), Night Beats (US), Novo Amor (UK), Octave One (US), Poliça (US), Purple (PT), Reptile Youth (DK), Robert Hood (US), Robert Owens (US), Roosevelt (DE), Seinabo Sey (SE), Shari Vari (André Bratten & Dølle Jølle) (NO), Shlohmo (US), Solen (SE), Spinning Jennies (SE), Tellef Raabe (NO), Tensnake (DE), The Devil & The Almighty Blues (NO), Tini (DE), Tomas Barfod (DK) DJ-Set, Tremoro Tarantura (NO), Truckfighters (SE), Ung Kropp (NO),Vossa Rebels (NO)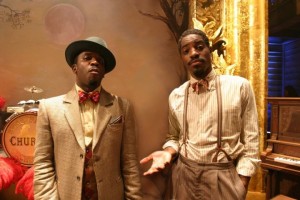 Ein wiedermal umfangreiches Musikprogramm, das von Alternative, Indie, Rock, Pop, Elektronisches, Singer Songwriter, HipHop bis Metal vieles bietet. Den 5-Tages-Festivalpass gibt es für ca.290€ (2425 Norwegische Kronen), Tagespässe kosten je ca.100€ (839 Norwegische Kronen). Der Freitag ist aber bereits komplett ausverkauft. Zu den ØYA Festivaltickets.
Wir berichteten bereits über die Headliner-Bestätigung von QOTSA, weiteres zum ØYA hier und auf www.oyafestivalen.com.